Order your Dabba Service now! Call +91.989.241.8057.
Free delivery in Juhu, Santacruz West, Khar.
Home Cooked Dabba Service
We are happy to announce that on Monday, April 20, 2015, we launched a tiffin lunch service that runs Monday to Saturday and offers free delivery in Juhu, Santacruz and Khar.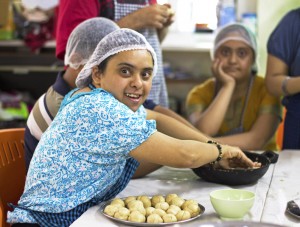 All meals are prepared by developmentally disabled young adults.
The adult interns enjoy the various tasks assigned to them; right from purchasing ingredients, cleaning and chopping vegetables, and packing, billing and delivering meals.
The cooking is supervised by Nutan Chandra, Simply Ghar Ka. Tiffin lunches include a combination of dum aloo, Punjabi pakoda kadhi, bhindi do pyaaza, kadhai chicken, mushroom matar, dal fry, rajma, matar paneer and black dal, and much more!
What to Order
Mini meals start at Rs. 70.
Full meals start at Rs. 120.
Place your order now by calling Sushama at +91.989.241.8057.
Thank you to our friends at The Daily Pao for featuring our service.
Very well written article!
http://www.thedailypao.com/a-new-tiffin-service-aims-to-rehabilitate-adults-with-developmental-disabilities/